It's safe to say that cold calling is every salesperson's least favorite activity, but it is essential in the sales process to grow business and meet quotas.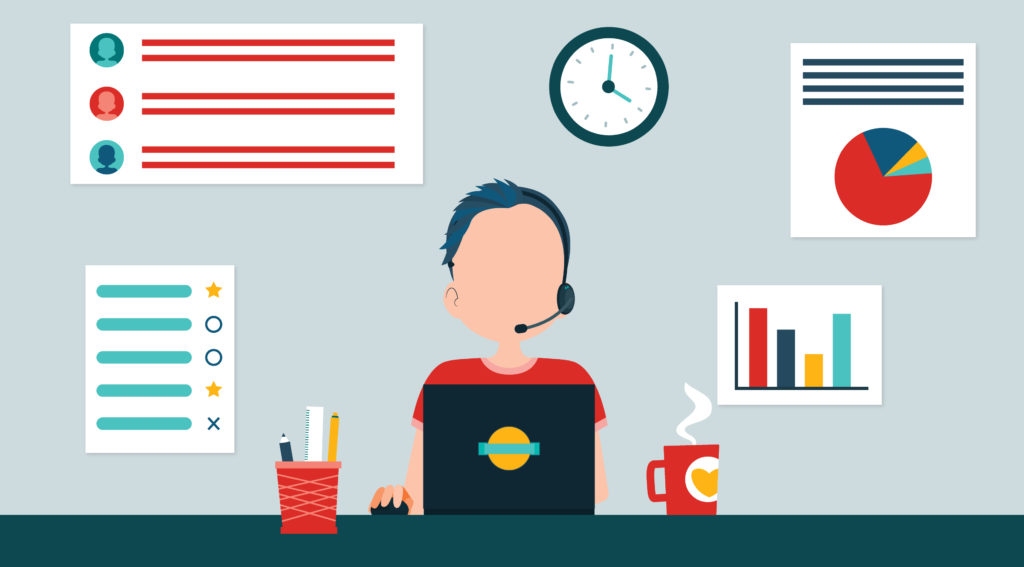 When success feels out of reach, it's often easy for salespeople to look at cold calling and trying to book new business meetings as an insufficient use of their time.
However, in many cases, it comes down to the numbers. Those struggling to see results in their cold calls, should look to their actual activity meaning the number of dials, connections made, appointments booked, etc. This blog will dive deeper and explore the essential metrics and techniques that are the backbone of cold calling success.
Cold calling is merely a numbers game. To reach a specific number of new appointments, a sales rep must execute a certain number of dials, and dedicate a set amount of time each week specifically to cold calling.
The numbers you need to manage
Dials – The number of calls being made.
Connections – The targeted people that Sales Reps are actually talking with (not including voicemails and gatekeepers)
Outcomes – The result of each connection (booked appointments, unqualified, shows no interest, requests information, or future follow-up)
The numbers you need to know
When pitching senior management, you should expect:
7-10% of dials to result in connections
35% of connections show no interest
30% of connections request more information
10% of connections book appointments
When pitching the C-suite, you should expect:
3-4% of dials to result in connections
35% of connections show no interest
30% of connections request more information
10% of connections book appointments
Manage the Numbers to Boost Success
When Sales Reps want better cold call results, they must commit to the numbers meaning meeting a certain quota of calls. Whatever the sales goal is for the week/month, a Sales Rep should work backward to determine the number of dials required to hit the new appointment quota.
How does it work?
If the goal is two (2) appointments, pitching senior management, the salesperson must hit at least 200 dials.
10% of dials should result in a connection = 20 connections
10% of 20 connections should result in booked appointments = 2 appointments
Going with the above calculation means cold-calling to C-suite titles would require more than double the amount of dials as senior management titles to meet required appointment quotas. Setting realistic connection and appointment expectations for the titles you want to reach is key in achieving your desired results.
Now that the Sales Rep has established the necessary number of dials to reach their goal, it is essential that portions of uninterrupted time is dedicated solely to cold calling. Positive results won't be achieved if dials are made sporadically.
Want more examples of an effective cold call equation to help any sales rep hit their goal? Check out our 5 Vital Nutrients for Healthy Cold Calling infographic; you may even want to print it out to share with your team.
Helpful Tips for Sales Success
1. Accountability – Sales Reps should hold themselves accountable to goals and numbers and adjust when needed. To stay on track, managers should review their team's progress. Recording these numbers can also be achieved through tools such as a phone system that logs and records dials and a customer relationship management (CRM) to track appointments and follow-up tasks.
2. Patience – Not all calls that are made will be successful. It can take an average of eight calls or touches to reach a prospect. With patience, Sales Reps will be more likely to build relationships with their prospects and become a reliable source for their customers and the industry.
3. Preparation– Sales Reps that prepare by researching are likely to be more credible and reliable for their prospects. According to Crunchbase, Top sellers spend an average of 6 hours every week researching their prospects.
4. Analysis – There might be other factors at play if an adequate call volume is being met, but the salesperson is might not seeing success. If this is the case, an evaluation of the overall strategy should be reviewed including messaging, target company, target titles, and marketing materials.
Check out one of our previous blog posts, 4 B2B Cold Calling Tips to Start Using Today to learn more about what you can do today to generate more leads and close more deals. Want to learn how MPI has created successful cold calling programs for our clients? Let's Connect: